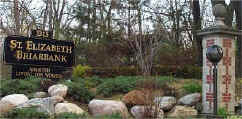 Bloomfield Hills
Our lovely home is located on Woodward Avenue in a lovely suburb of Detroit. Once the summer estate of the Barbour family of the Jewel Stove Company, Briarbank was acquired by the Daughters of Divine Charity in 1943. The Sisters named Briarbank in honor of St. Elizabeth of Hungary and immediately began caring for the elderly.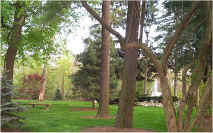 Natural Beauty
Come see this lovely thirteen acre site! Marvel at the awesome beauty of trees and flowers in spring and summer. Enjoy watching animal friends roaming among the trees and bushes. Watch for the Cedar Waxwings feasting on berries. Nature inspires and elevates the soul.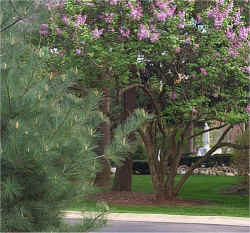 Safe Environment
Our shrine to the Virgin Mary is surrounded by the beautiful lilacs, pines and other wonderful plants. A guest can walk to it with a feeling of safety and security. Throughout our gardens we have park benches and comfortable lawn chairs. We believe that seniors want a quiet and comforting residence where their fears and concerns are removed, We provide a place to reflect on times past and to ponder the challenges of the future.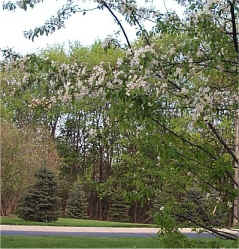 Go For A Walk
Our grounds are breathtaking in the spring. There is a wide variety of trees and plants which always provide a serene, back-to-nature walk. Relatives and family members can take their loved ones for long or short walks around the facilities and enjoy the comfort and privacy that is only possible in our kind of lifestyle.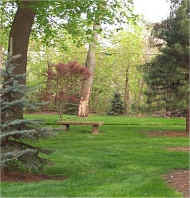 One With Nature
We are reserving a place on this bench for your mother, aunt or sister. Come on over and join us for a meal or for a tour. You can even come to our Sunday mass and check out the cozy atmosphere of our very private and tiny chapel. We are blessed to have Monsignor John Zenz say mass right in our own chapel. We love to listen to his thought provoking homilies and give us his special motivational lessons.