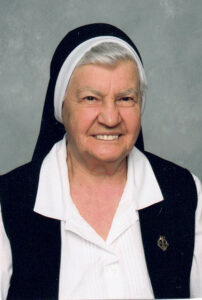 Sr. M. Lawrence Churko F.D.C passed away peacefully at St. Joseph Hill Convent on Sunday January 9, 2022. Following the advice and encouragement of their countrymen, John Churko and Catherine Boda also became determined to try their good fortune in the Land of Plenty and the world of great possibilities. After experiencing various areas, they joined the Hungarian Colony in Toledo Ohio. It was a good move and soon Mr. Churko found satisfying work and Catherine was well accepted by the women who introduced her to profitable work. Because both were busy in their new settlement, they no longer were under any strain or anxiety. John and Catherine became friends and eventually married. Within time their fondest dream materialized and they were blest with fifteen children. Unfortunately, many of them died in early childhood. The good parents were very saddened by their loss but continued to love and nourish their remaining children The last child born was Mary Ann, born on August 13, 1928. She enjoyed the love of her dear mother, but her mother died when she was just three and a half years old. The Daughters of Divine Charity proposed that the bereaved father send his youngest child, to St. Elizabeth's Orphanage in Detroit, an adjunct of Holy Cross Church. Mary Ann spent 10 years at the home, nurtured, guided and loved by the Sisters. It was here that she received her elementary education. Later she attended St. Joseph Hill Academy in Staten Island for several years. Her two sisters and a brother eventually established themselves very well and had Mary Ann join them, share their life, and attend the Central Catholic High School from which she graduated in 1948.
On September 12, 1948 she entered the familiar grounds of St. Joseph Hill Convent as a candidate. Here she continued the basic tenets of Community Life. Because of her sincere desire to become a Religious, she was invited to enter the Novitate on August 16, 1949, receiving the name of Sister M. Lawrence. This was a special time to deepen her prayer life and learn the sacredness of her Religious Vows. On August 15, 1951 she made her Simple Profession and on August 16, 1956 her Final profession.
By her kind nature and love for children, she was assigned to the teaching profession. For her preparation she attended various colleges and received her BA with a major in History and a minor in Education.
In the East she taught in Roebling, New Brunswick and Trenton New Jersey as well as in South Bend, Indiana. She spent 43 years in California, at St. Therese and St Charles in San Diego and in St. Joseph's in Fontana.
Sister Lawrence was a concerned kind teacher, who loved and understood children. During these years she was the Superior, Principal, Sacristan and CCD teacher. She fullfilled each of these positions with distinction.
Sister loved all sports especially baseball and was very partial to the Los Angeles Angels. She was a good driver and willingly accompanied the Sisters to their destinations.
In 1999 she was assigned as Vice Principlal of St. Joseph Hill Academy. It was a responsible assignment but she knew with God's help and the support of her Community, she would succeed to please God, the children and their parents.
Mr. Hansen, the current Elementary School Principal, spoke of Sister's warm personality and her sense of humor. When she first met Mr. Hansen she asked him how he preferred to be called; Larry or Lawrence, he replied Larry. Sister said that's good, I prefer Lawrence and I would not want people to confuse the two of us. Her remarked that her presence in the school was invaluable, how she so enjoyed being around the school children, helping prepare them for the Sacrements of Penance and Communion and .the joy she took in setting the Chapel up for Mass,
Visitation for Sister will be on Thursday January 13, 2022 in the Chapel at St. Jospeh Hill Academy from 2-4 p.m. A Mass of Christian Burial wiil be offered at 4: 30. Sister will be laid to rest in St. Ignatius Cemetey in Orgeon Ohio on Janary 25, 2022.
Contributions to Sisters Memory can be made the the Daughters of Divine Charity
To send flowers or a memorial gift to the family of Sister Lawrence Churko please visit our Sympathy Store.