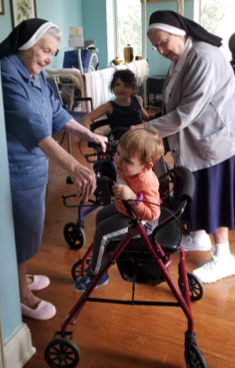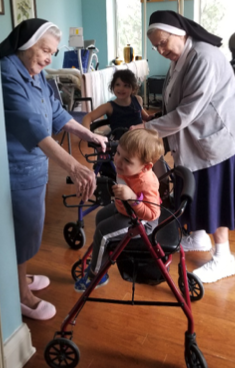 Nothing brightens a day in the convent like a visit from children!
If you are reading this newsletter, you already know the love these women are capable of giving. You know what a sacrifice it has been in their lives not to have children of their own. But they have shared in the joys and         sorrows and everything in between in the lives of hundreds, maybe thousands of students, handicapped and elderly women, their personal families and friends… so in effect, their family circle might be larger than yours or mine. 
As the years passed , the number of young people visiting the convent faded. Thankfully, the students visit frequently during the school months filling the convent with songs, arts and crafts, smiles and hugs.
This photo was taken in early July 2019. It shows how even in their later years, our retired Sisters love deeply—and they know how to show it. 
This short visit began with rides for the kids on rollators with Sisters Marlene and Stephanie. From the dining room they rode over to the chapel where they   visited Jesus and shared a short prayer with the Sisters. Next, they headed to Sister Regina's office for a special art project—painting a birdhouse! Then it was to the kitchen for freshly baked cookies with Sister Maltida, to make sure the little ones were up and ready for their next stop. 
So, next time you need a "place to go with the kids," add the convent to your list. Just be prepared  for cookies, prayers and lots of hugs!