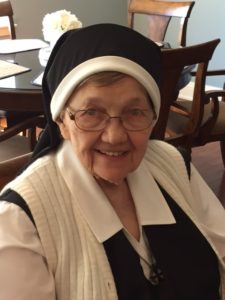 Sister M. Agnes Jezerinac is a delightful new member of the Sisters' community here at St. Joseph Hill Convent.  She arrived here shortly before Easter from St. Elizabeth—Briarbank and her beaming smile quickly became a welcome sight in every room she entered.
Sister Agnes was born in Monessen, Pennsylvania, where she attended the local Catholic schools.  In 1948, she entered the Daughters of Divine Charity in Rankin, Pennsylvania and made her novitiate at St. Joseph Hill Convent, Staten Island, NY.  In 1950 she made her first vows.
After spending many years teaching in elementary schools conducted by the Daughters of Divine Charity in Pennsylvania, Ohio, Wisconsin, New Jersey and New York, Sister embarked on a career in health care.  She obtained her nursing degree from the College of the Desert in Palm Springs, California.  She served on the staff of Eisenhower Hospital in Redlands, CA, where she also worked as a home-visiting nurse and in hospice care.
After a brief sabbatical to allow her to care for her own health, Sister went to St. Elizabeth—Briarbank in     Michigan, where she cared for the Sisters in the infirmary there.
Sister Agnes now spends her days visiting the elderly and sick Sisters in the infirmary, spending time with them to discuss current events since one of her interests is keeping up with the local, national and international news.  She also enjoys reading and doing puzzles as well as watching game shows on television.
Sister Agnes also plays the piano and organ and was of invaluable  service to the various parishes in which she served over the years.