St. Elizabeth Briarbank
39315 Woodward Ave
Bloomfield Hills, Michigan  48304
Phone: 1248-644-1011
Fax: 1248-644-1596
[email protected]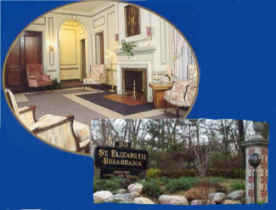 The Daughters of Divine Charity acquired the beautiful Georgian home in 1943 from the Barbour family. The Barbour family were the owners of the Jewel Stove Company in Detroit for many years and used the home as their summer residence. The Sisters acquired the home and immediately began caring for senior women.
The Daughters of Divine Charity are a Catholic international pontifical congregation of women founded in 1868 in Vienna, Austria. Today the Sisters number over 1500 and are located in 16 countries around the world. The congregation of Sisters is involved with caring for the elderly and education.
In the Metro Detroit area, the Sisters also administer an adult foster care home for women. Both facilities are non-profit organizations under Section 501 (c) (3) of the Internal Revenue Code. Your charitable contributions are welcomed and are tax deductible.