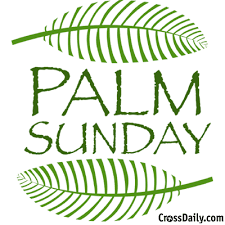 Please Show Me How
"Yahweh has opened my ear and I have not resisted. I have not turned away." Isaiah 50:5."He will show you." Mark 14:15.
Palm Sunday begins Holy Week or Easter Week. As I meditated on the readings for this day, I thought about my Lent thus far. The words from Isaiah made me wonder if my sacrifice of giving up wine and sugar, the donations I made, the retreat I attended, having participated in the sacrament of reconciliation, and extra prayer periods (reading scripture or being silent) did in fact open my ear. The purpose of Lent is to grow closer to Christ and become his true disciple. The Lenten practices of self-denial, generosity, and prayer are not an end in and of themselves; but spiritual practices to allow us to grow in holiness. Hopefully, we begin to break attachments, increase our desire for the Lord, and learn to love by softening our hearts with alms giving, and service. It begs the question as we approach Palm Sunday, where am I?
As I read the Lord's Passion, I reflected how at different times I am or have been each of the characters in the narrative. Like Peter, I can rely on my own strength and not realize how I can so easily fall if I am too self- reliant and do not ask for God's grace. Like Pilate, I can compromise my values or integrity to ensure success or to avoid conflict. I can be like Judas who lied to himself as well as lying to others. I can betray someone who is close to me by sharing a secret, gossiping, or slandering them. I can be Caiaphas and Ananias wanting to maintain the status quo at the risk of someone's "life" for "the good of all".
Or I can be Simon the Cyrene who reluctantly helped carry Christ's cross, and by so doing, was forever changed. I can be the woman who washed Jesus' feet with oil, who did what she could to show her love for Christ. I can be Mary Magdalene searching for Jesus but not recognizing him. Where are you in the passage?
The words that most struck me was Jesus' instruction to the disciples, to go to the city and find a man who will show you a large upper room. We have been invited to the upper room. Have we opened ourselves to Christ's voice? More importantly, have we listened and not turned away? He is inviting us to join him in the upper room. He tells us that He will show us the way. He wants us to worthily partake of the Eucharist and become a healthy member of His body, the Church.
As I receive my palm and celebrate Jesus' entrance into Jerusalem, will I take my palm home and return to my old ways; or will I stay with Christ through Good Friday, Holy Saturday, and truly celebrate the resurrection on Easter Sunday with my own spiritual rebirth? Will I be forever changed?